Season Tickets for the 2018 - 2019 1st team games are now available. Season Tickets are valid for all league home games, plus any other matches that may be specified as free for season ticket holders.
GoCardless Direct Debit option
You have the option to pay for Season Tickets in 3 installments direct from your bank account. The initial payment will be taken once the direct debit has been setup (details will be given in the order confirmation email) with subsequent payments being taken on 31st October and 31st January.
You may also purchase Reserved Seating, Programme Season tickets and Memberships (see the Membership page for information on how this works) at the same time using this option, but the cost of these will be taken in the initial payment. No other items may be purchased under this scheme, so if you would like to buy merchandise and other items please do this separately, otherwise the GoCardless option won't be available at the checkout.
Under 16s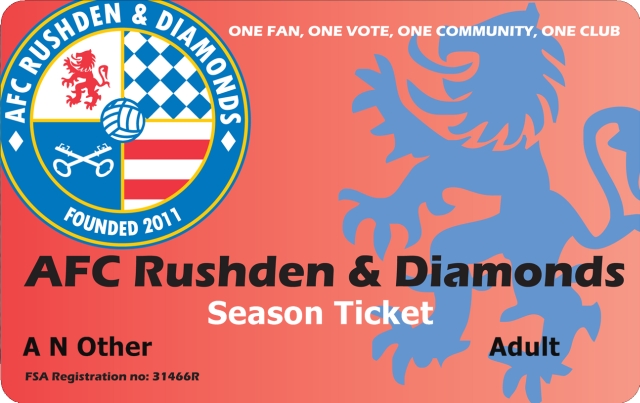 Under 16 members are admitted free to all home matches on production of
a valid membership card. Under 16 non-members can purchase Season
Tickets at Concession rate, although we'd strongly advise you purchase an
Under 16 membership which will gain you free entry for all home league
games, making a significant saving.
All Under 8s whether members or not are admitted free to all home league matches.
* Senior Citizens or Full-time Students (must be able to provide proof of status upon request).
Programme Season Ticket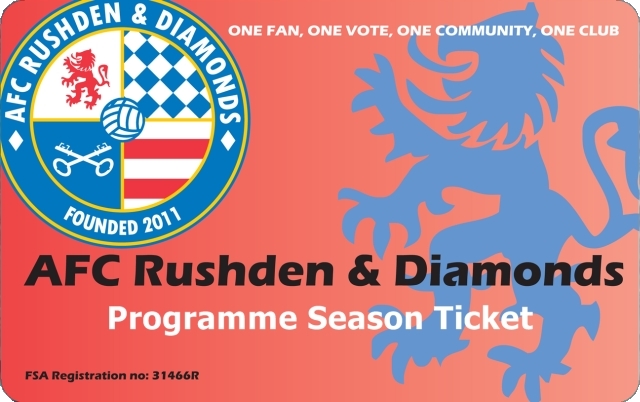 Programme season tickets allow you to obtain all home league match
programmes for the whole season at a reduced rate. Programmes can be
collected on entry to each game and will be given to you at the turnstiles.
Programme Season tickets will guarantee you a programme, even if you're
not able to attend a match as it will be kept for you and made available for
collection from the club shop at the next home game onwards.
Reserved Seating
A limited amount of reserved seating is also available for the whole season when purchasing your Adult or Concession Season ticket. Reserved seats will be valid for all home matches including friendlies and cup matches.
Printable Forms
If you would prefer to pay by cash, or know another fan who does not have access to the internet and would like to purchase a Season Ticket, you can download the form below in PDF format and bring it along to a game with your payment, or post it with a cheque (please do not post cash):
Coach Travel Seat Deposit
For away games where coach travel has been announced you may reserve a seat on the coach buy purchasing a Coach Travel seat deposit. The balance is due on boarding the coach. Pease state in the Notes section of the checkout which game you're buying a coach travel deposit for.
Six Pack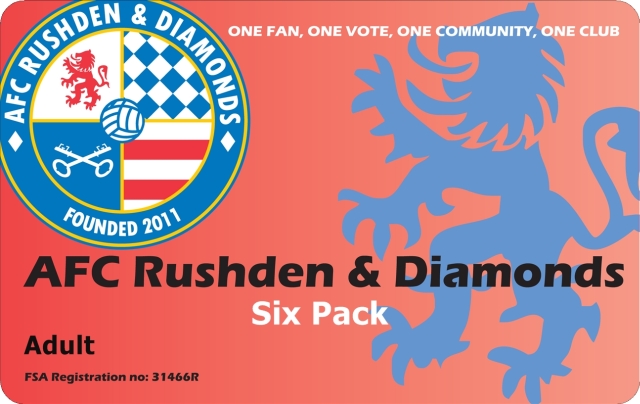 You can purchase an Adult or Concession 'Six Pack' which will allow you
entry to six home league matches of your choice during the course of a
season. You may also redeem multiple credits from your Six Pack during
the same match, for example if you wished to pay for a friend or friends
who are with you.
This is a great alternative to a half season ticket and with the flexibility of being able to redeem multiple credits at the same match means you're less likely to waste any.
Gift Vouchers
Not sure what to buy as a gift for someone for that upcoming special occasion? Then why not buy a gift voucher which can be used against any products purchased through the club shop (including online). Available in four fantastic designs for various values.
(Gift Vouchers cannot be used at the turnstiles for gaining entry to the ground on matchdays, please purchase a Six Pack instead.)
| | | | |
| --- | --- | --- | --- |
| | | | |
| Design 1 | Design 2 | Design 3 | Design 4 |
| | | | |
| Design 5 | Design 6 | Design 7 | Design 8 |
(Please state which design you would like in the Notes section of the checkout, otherwise one will be randomly selected for you)